Compact-Solitair 9 HD
Nominal hopper volume from 3 500 L to 5 000 L
From 4 m to 6 m working width
Tractors between 140 - 300 Hp | 103 - 221 kW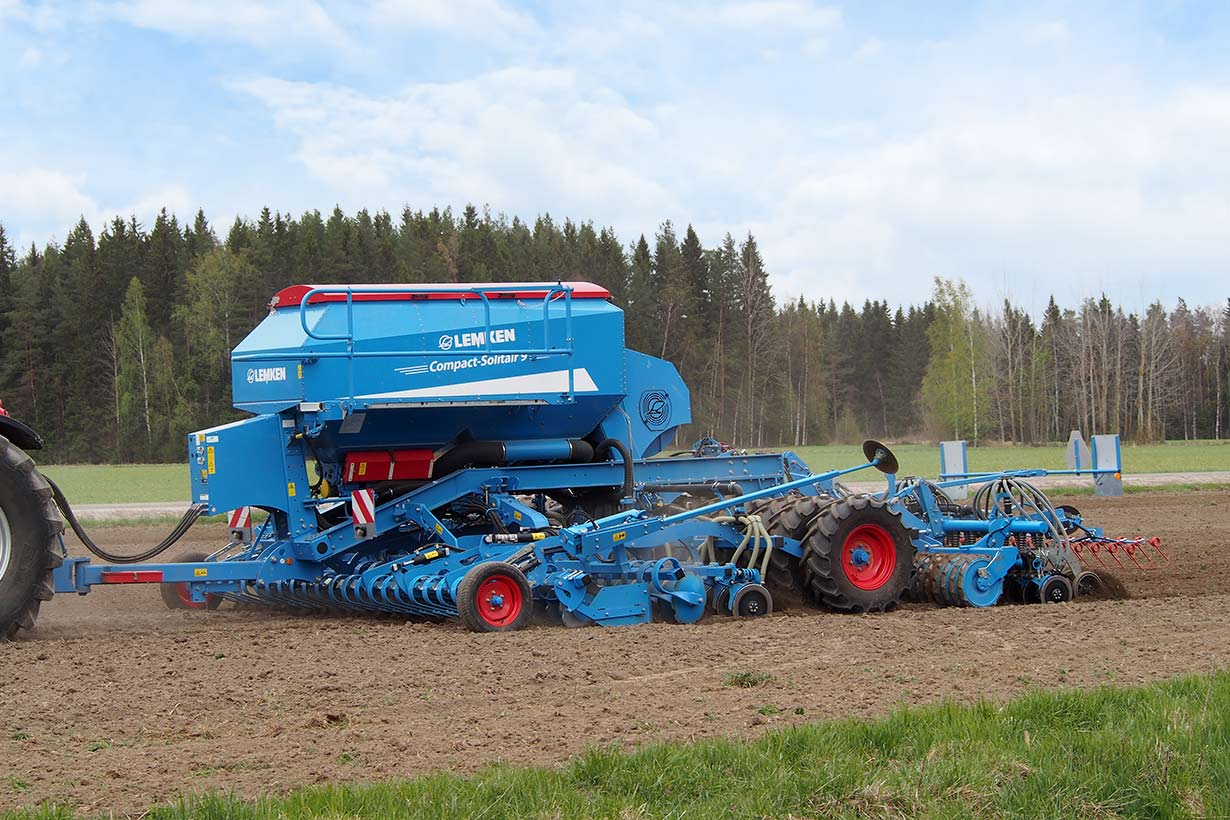 Compact-Solitair with simultaneous fertilising
With summer cereals in regions with brief vegetation periods, in particular, significant increases in profits can be realised with drill combinations that place grain and fertiliser simultaneously. In both conventional and minimum tillage cultivation, a speedy seedling development is achieved.
Contact your distribution partner!
Advantages of Compact Solitair 9 HD
The two-part, variable hopper can be used for both seed and fertiliser.
Heliodor compact disc harrow tools are used for seedbed preparation.
400 mm diameter double disc coulters place fertiliser, behind the cultivation section, and allow depth to be adjusted independently of other parts of the machine. Their coulter pressure can be increased to a maximum of 200 kilogram.
The large tyre packer wheels guarantee optimum reconsolidation of the seedbed.
The low-maintenance OptiDisc double disc coulters, with depth control wheel and row distance of 167 mm, guarantee exact seed delivery with uniform seed depth.
The arrangement of the tools, and the delivery of the fertiliser between the seed rows, ensure that all the plants receive an optimum amount of fertiliser while also helping to reliably avoid any cauterisation of the plant roots - thereby providing the ideal conditions for speedy growth.
Easy operation of all functions with the Solitronic machine control vial the LEMKEN graphic terminal LVT 50 or an ISOBUS terminal (option).
An integrated trapeze packer roller for the pre-reconsolidation of the seed rows is available.
Select a model
K = Foldable
HD = Heliodor, Fetiliser (double hopper)
Technical data
| | Compact-Solitair 9/400 HD 167 |
| --- | --- |
| Working width (cm) | 400 |
| Power requirements (hp) from - to | 140 - 240 |
| Power requirements (kW) from - to | 103 - 176 |
| Weight (kg) | 4 283 |
| Article number | 750 5132 |
| Tank capacity (litres) | 3 500 |
| Row spacing (mm) | 167 / 334 |
| Number of seed coulters | 24 |
Basic equipment
Without lighting equipment
Without brake system
Lower link attachment Cat. 3N=L2 Z3 (or Cat. 3)
Working section with notched concave discs, Ø 465 mm, two rows
Stepless hydraulic depth adjustment for compact disc harrow
Tyre packer roller 420/65 R 20, 1.064 mm (radial tyres)
Headland management
Hydraulically driven fan with filter Ø 230 mm
Electronic seed drill operation with operation terminal LVT-50
Maintenance-free double disc coulters OptiDisc M, up to 45 kg coulter pressure per coulter
Cushioned double disc coulter Ø 400 mm with hard metal scrapers for fertilizing
Two-part hopper for seed and fertilizer with a capacity of 3.500 l (partition 60:40, 50:50 or 40:60 available) with outside located seed and fertilizer distributors
Lateral folding hopper cover
Mechanical switch of width sections
Hopper sieve
Electronic hopper level indicator for seed and fertilizer
Electrically driven seeding and fertilizer shaft
Pulse wheel Ø 340 mm
Digital scale with case
Fertilizer grid
Lateral loading platform for seed and fertilizer
Battery mounting set 4 m
The availability and basic equipment of the machine may vary depending on the country. Please contact your dealer.