Low-draught and blockage-free for shallow and deep stubble cultivation
The new Karat 10 three-beam cultivator reveals its efficient design even at first glance: The tines are now arranged symmetrically about the towing axle, making the machine extremely low-draught and ensuring intensive mixing at the same time. This is particularly important when using the cultivator with track guidance systems.
Contact your sales partner!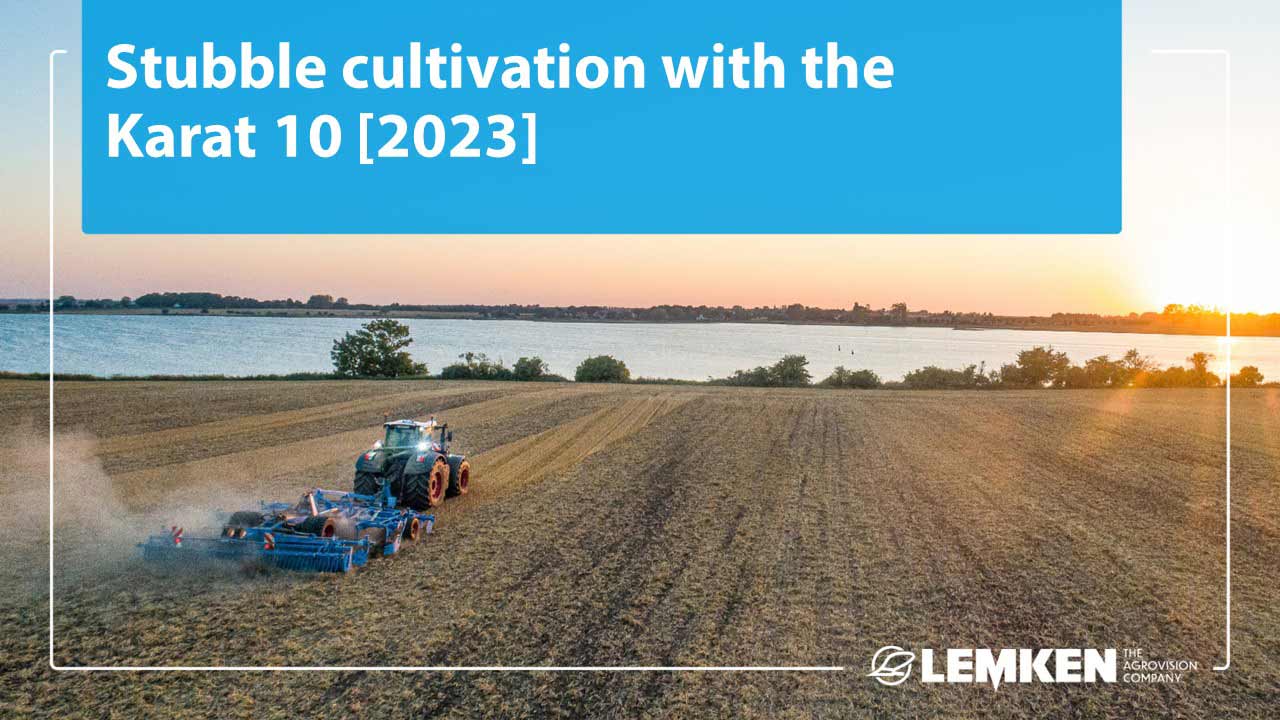 Advantages of three-beam cultivator Karat 10
Extremely low-draught
Ensures intensive mixing
Lower traction requirements
Symmetrically arranged tines about the towing axle
Blockage-free working
Intensive cultivator Karat 10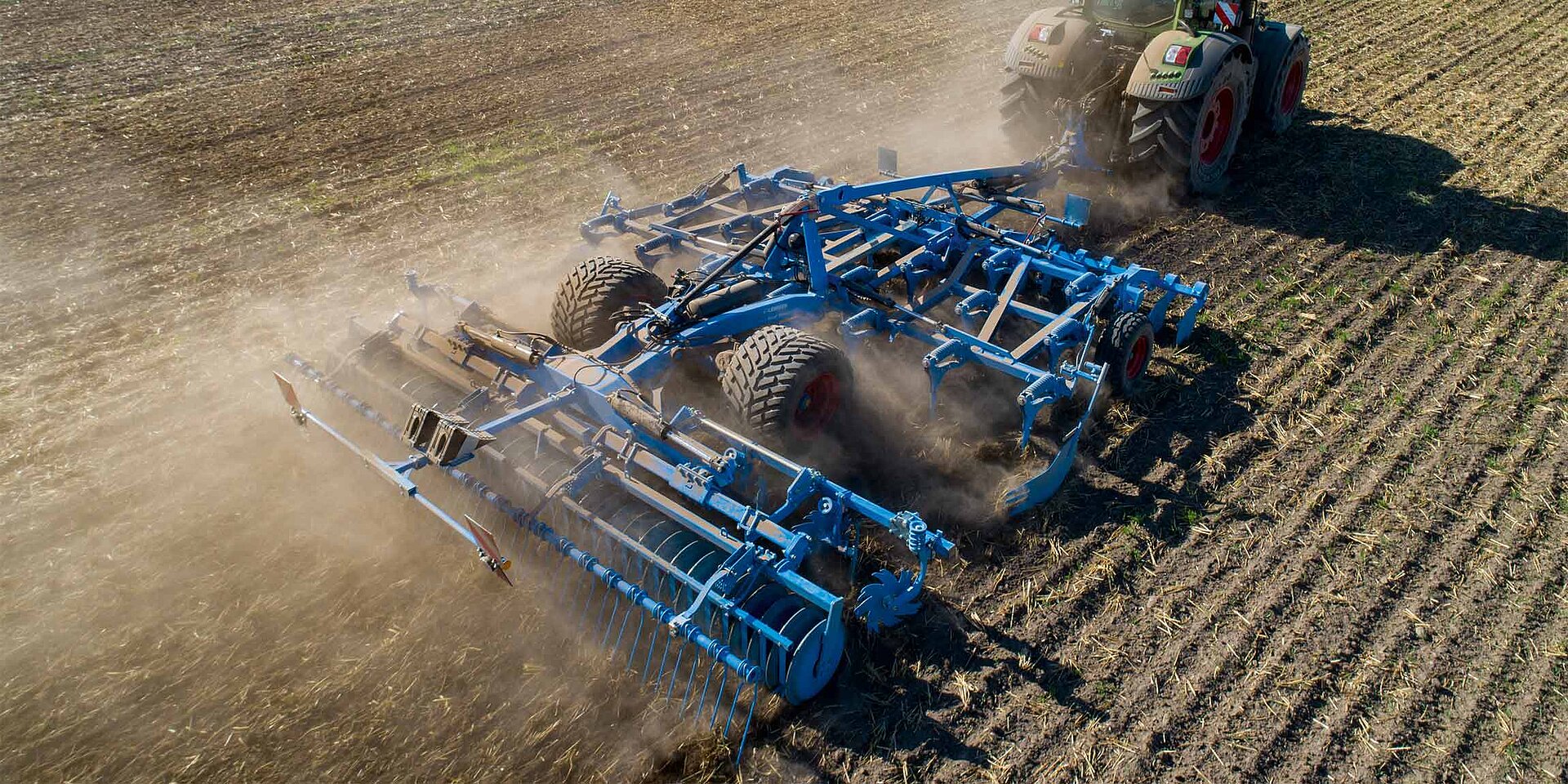 Shallow to deep in no time
Full-surface cutting during the first flat stubble cultivation and simple and quick tool change ensure an optimum working result in the first pass.
Widened wing shares (here K 8 H + KF 33 P) guarantee a full-surface cut with line spacings of 30 or 31 cm.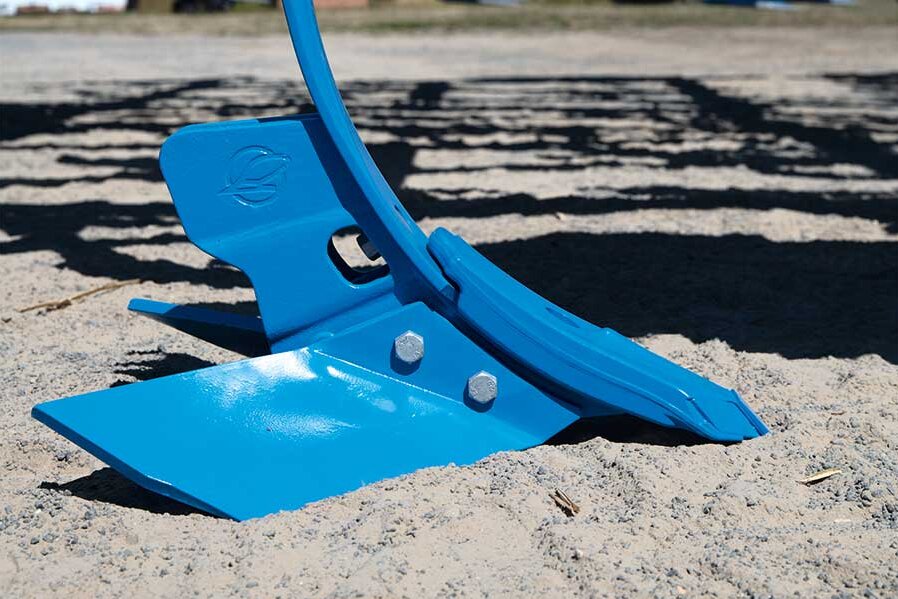 For working depths of less than 5 cm, the Karat 10 can be equipped with DeltaCut shares. For deeper tillage, share points are available in different widths, including special narrow shares.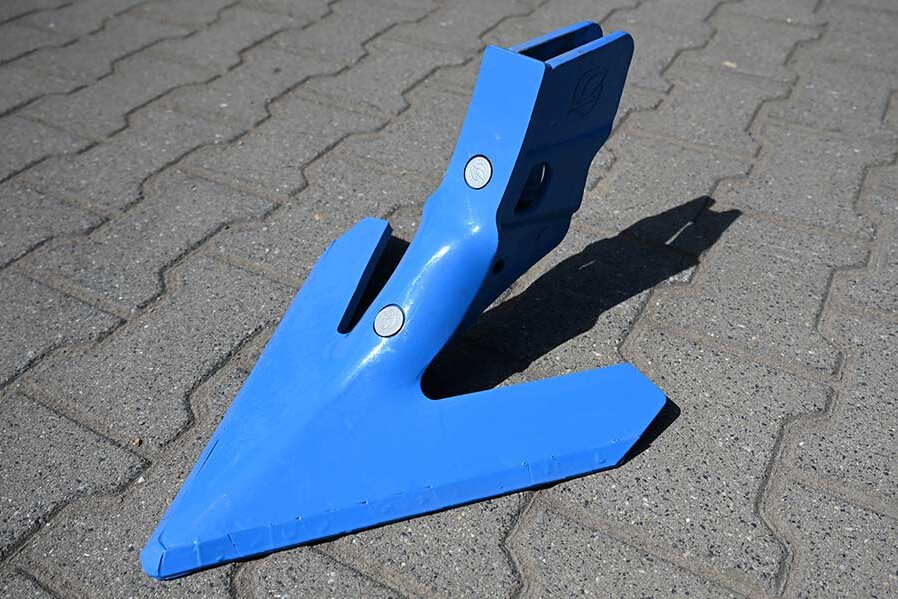 The quick-change system (which comes as standard) ensures that tools can be easily changed to match your practical needs. To change tools, the interchangeable share foot, which is secured by a linch pin, is removed and exchanged for the required version, for example one without wing shares for deeper tillage. No tools are required.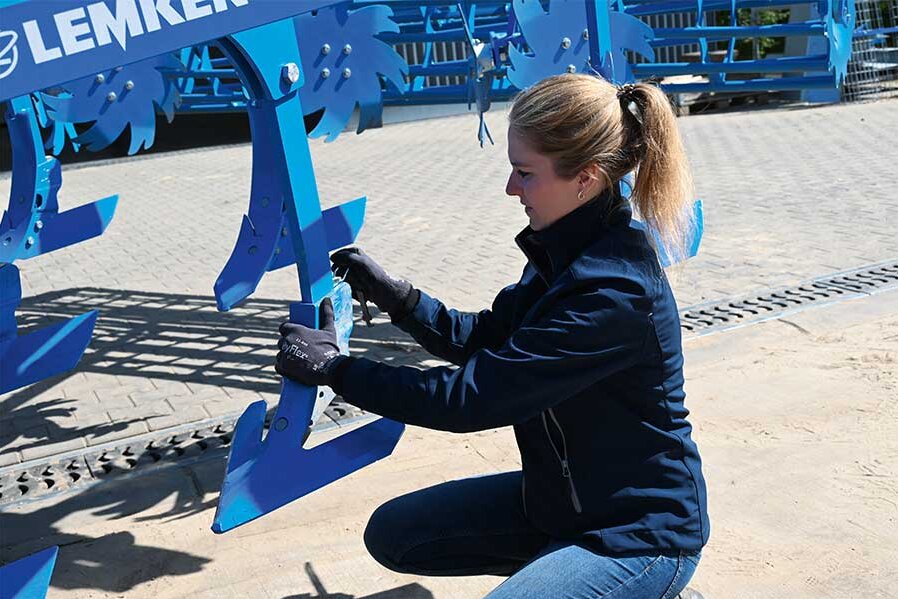 Different share versions are available, depending on operating conditions and area output are the following versions possible:
Standard
carbide
hard-faced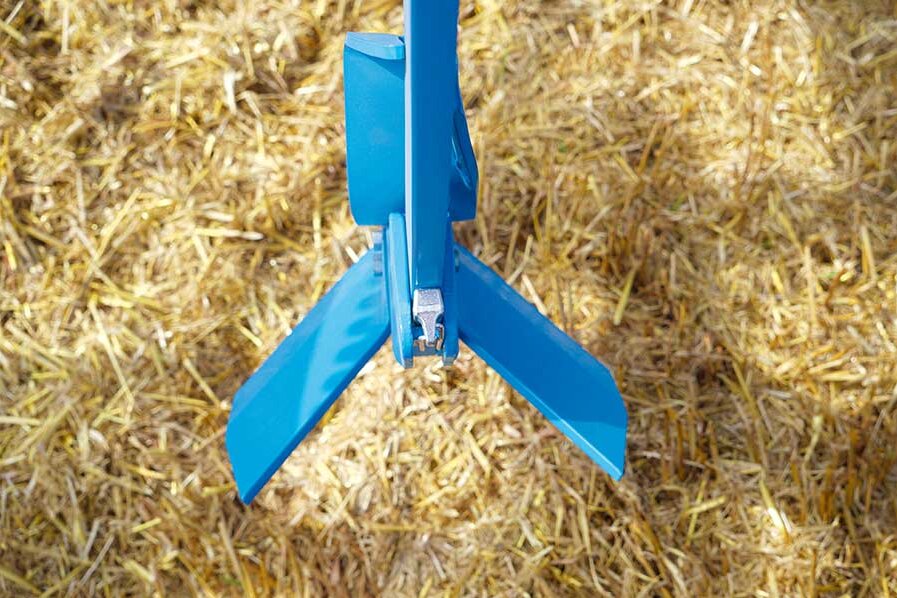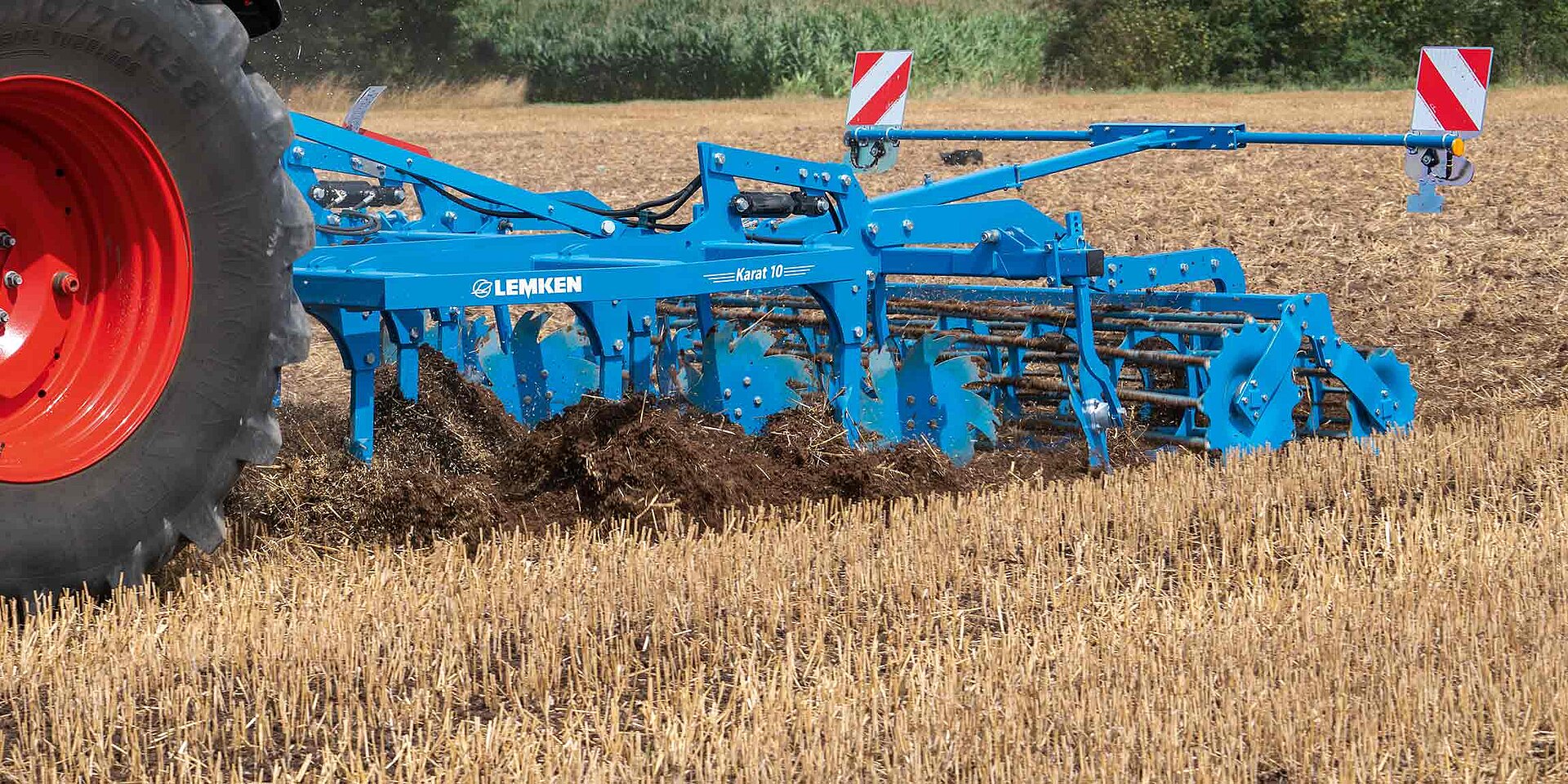 Optimal levelling across the entire working width
Even in the basic version, the Karat 10 enables precise work across the entire width, even in difficult terrain.
Boundary discs or side shields ensure optimal levelling along the outer cultivator edges. This supports precise pass alignment.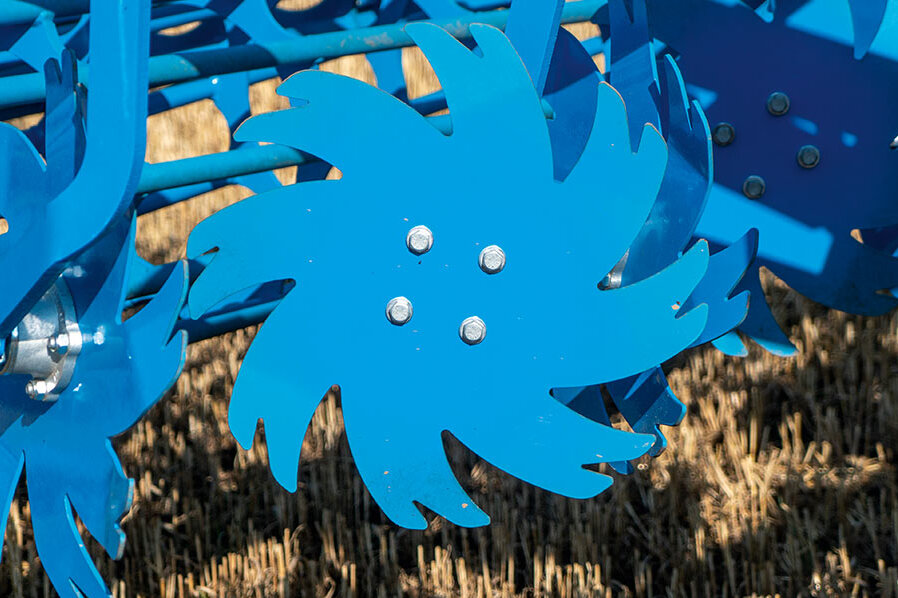 The boundary discs can be folded up mechanically or hydraulically. This makes it easy to work with folded-up boundary discs, for example along fences.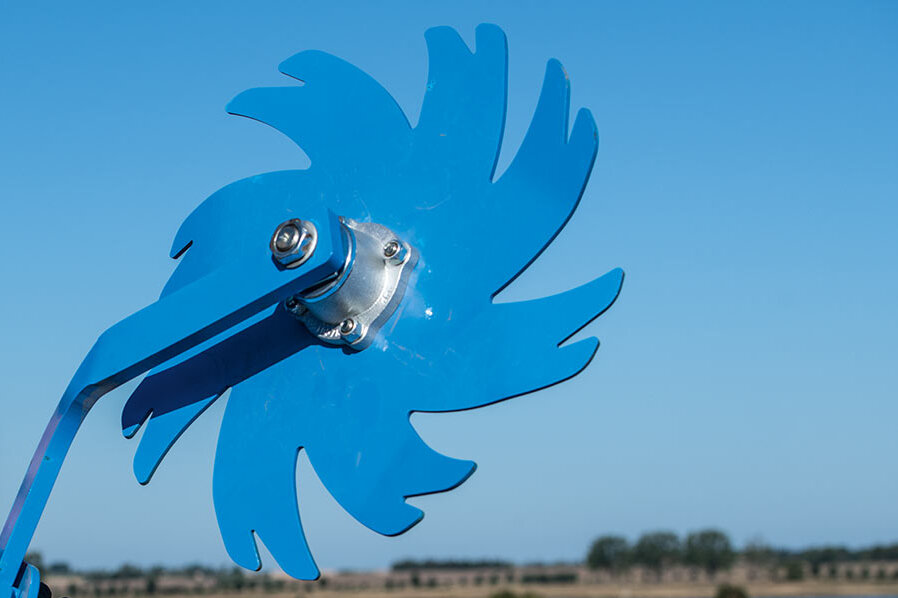 Centrally adjustable levelling elements behind the tine section ensure even levelling.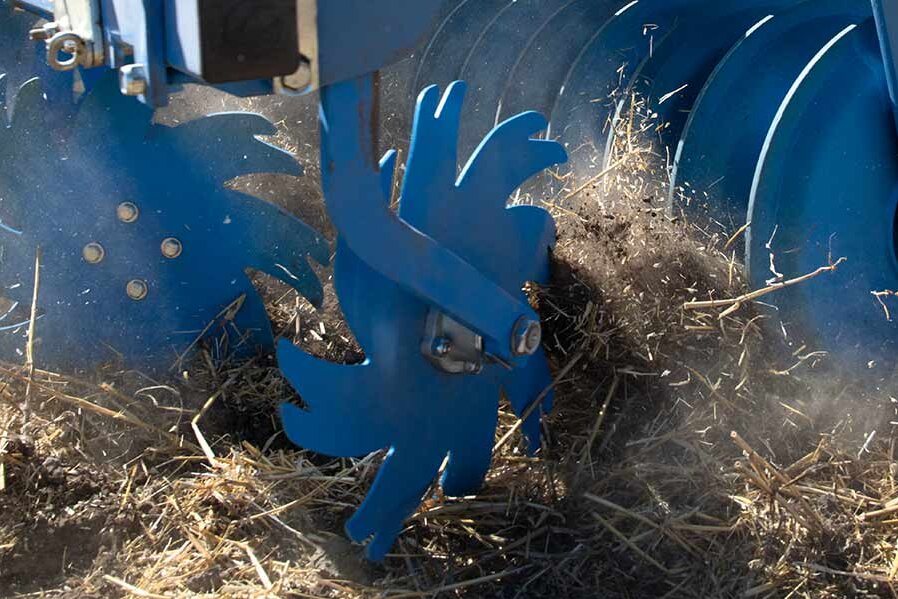 Blockage-free operation in all conditions
Large bar spacings and underframe clearances guarantee blockage-free work even with large volumes of organic matter.
mounted version
Line distance: 30 cm
Beam spacing: 70/70 cm
Underframe clearance: 80 cm
semi-mounted version
Line distance: 31 cm
Beam spacing: 100/100 cm
Underframe clearance: 80 cm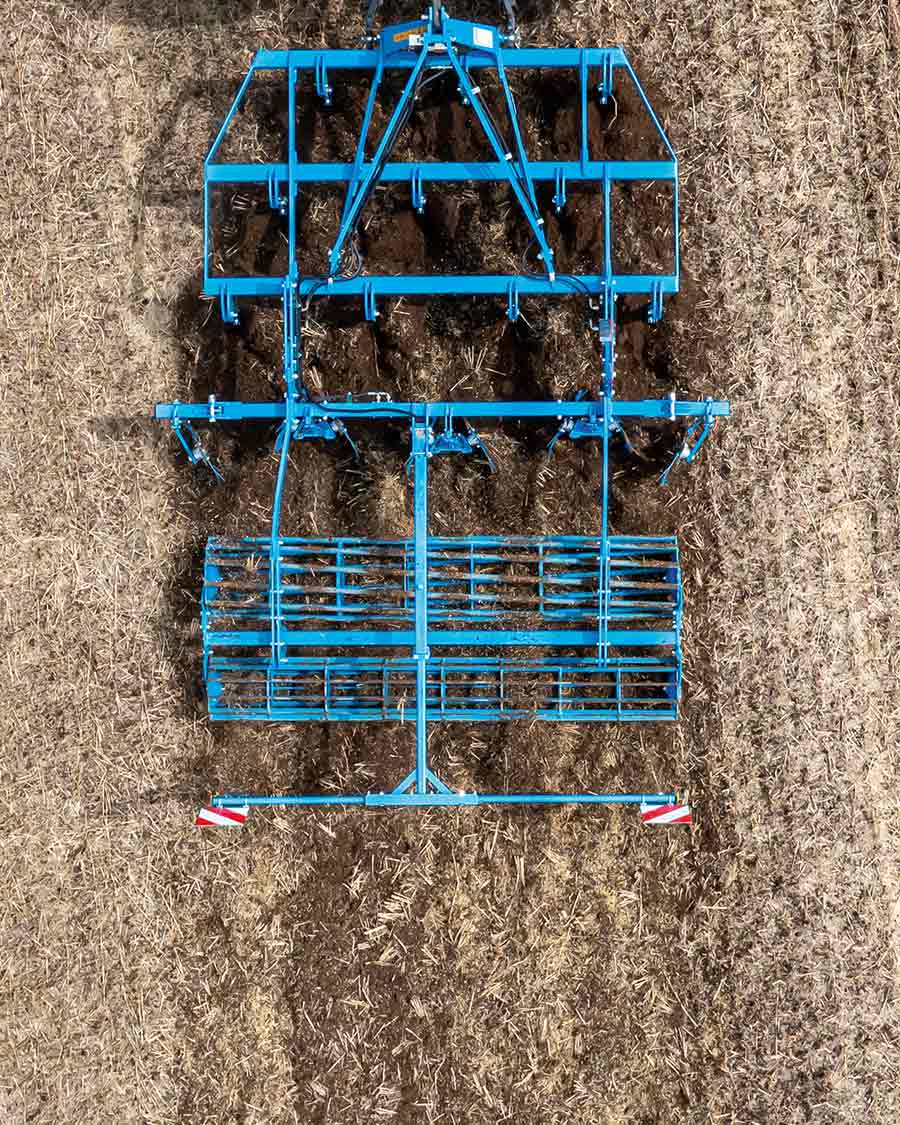 The Karat 10 can optionally be fitted with a leading disc section. This ensures that large volumes of organic matter can be incorporated even better into the soil.
The discs have a diameter of 520 mm and are individually suspended on leaf springs. They chop organic matter and break up coarse soil clumps so that the cultivator is able to mix soil intensively and work without blockages. The discs are convenient to adjust hydraulically to the desired working depth from the tractor seat.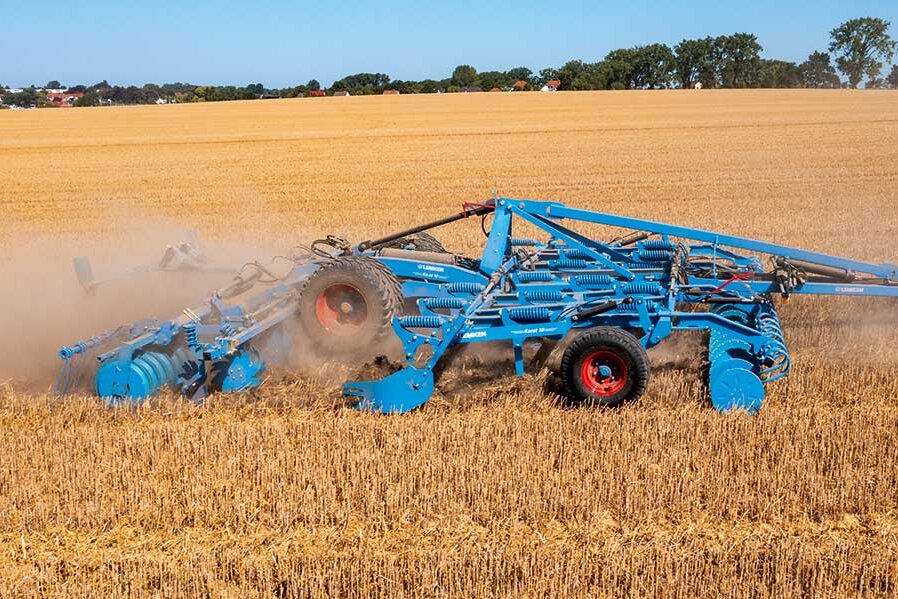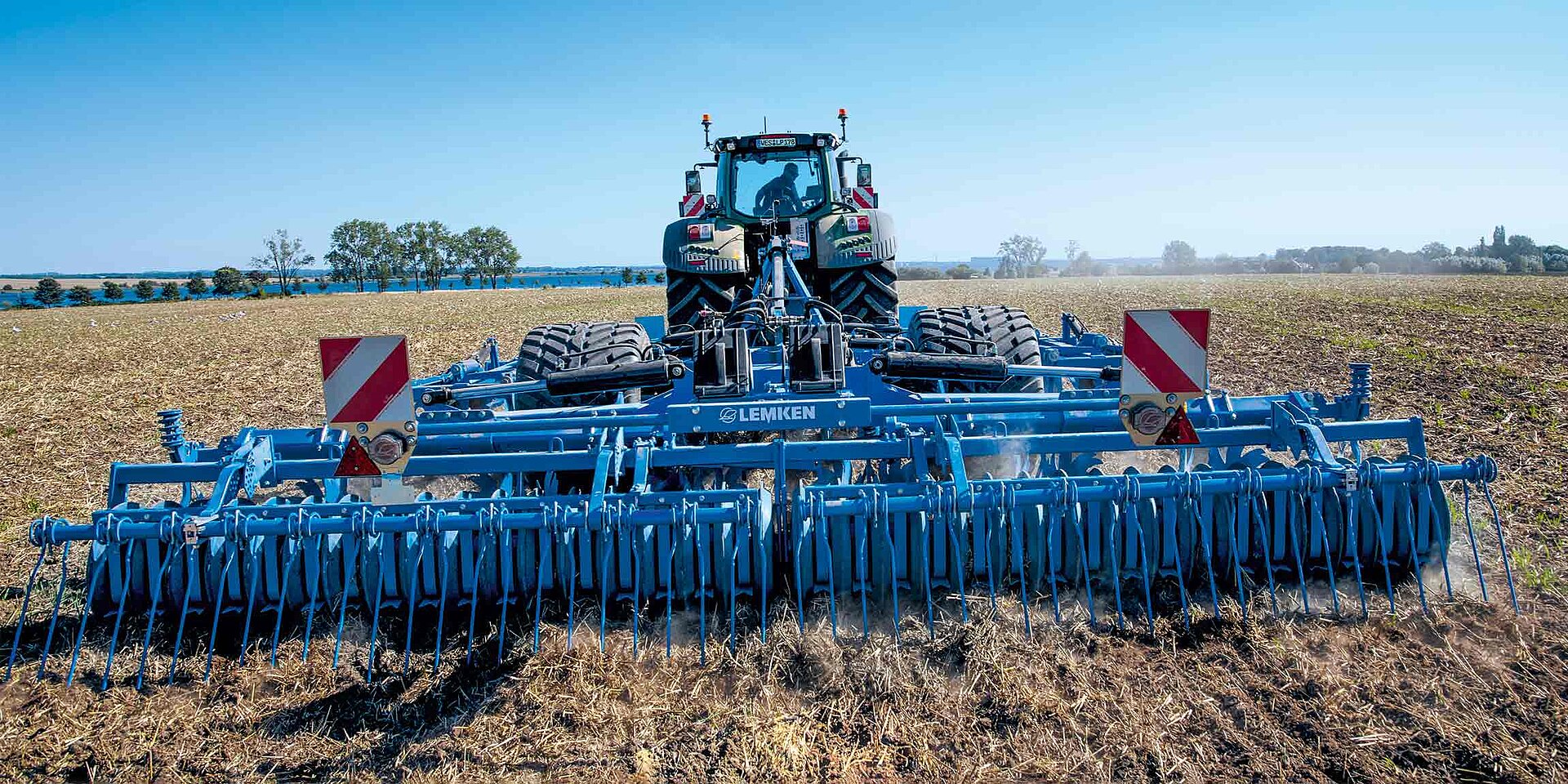 Optimally prepared for any job
The right trailing implement can be selected from the extensive roller range to provide reconsolidation and achieve an optimum crumbling effect.
An additional single-row harrow creates optimal germination conditions for volunteer cereals and weed seeds and removes soil from roots.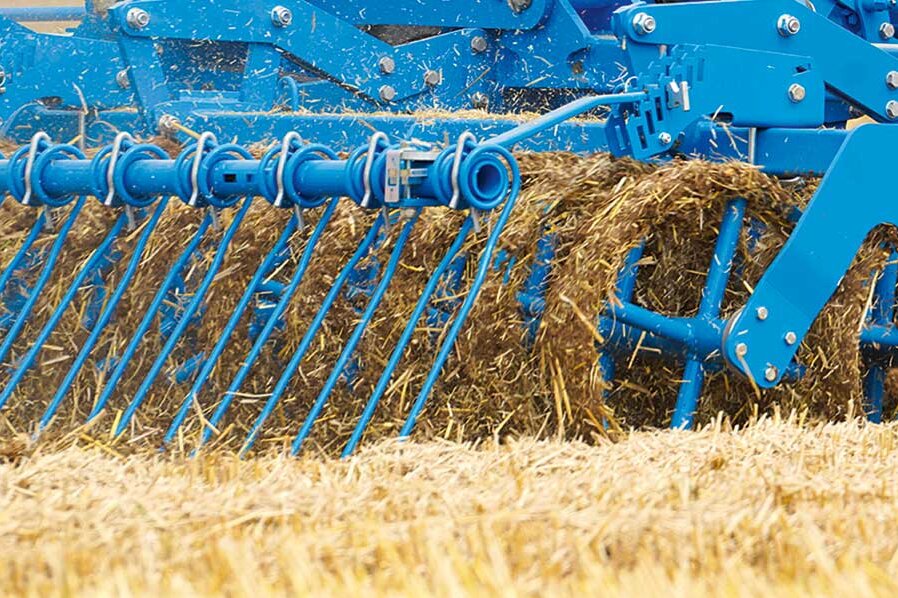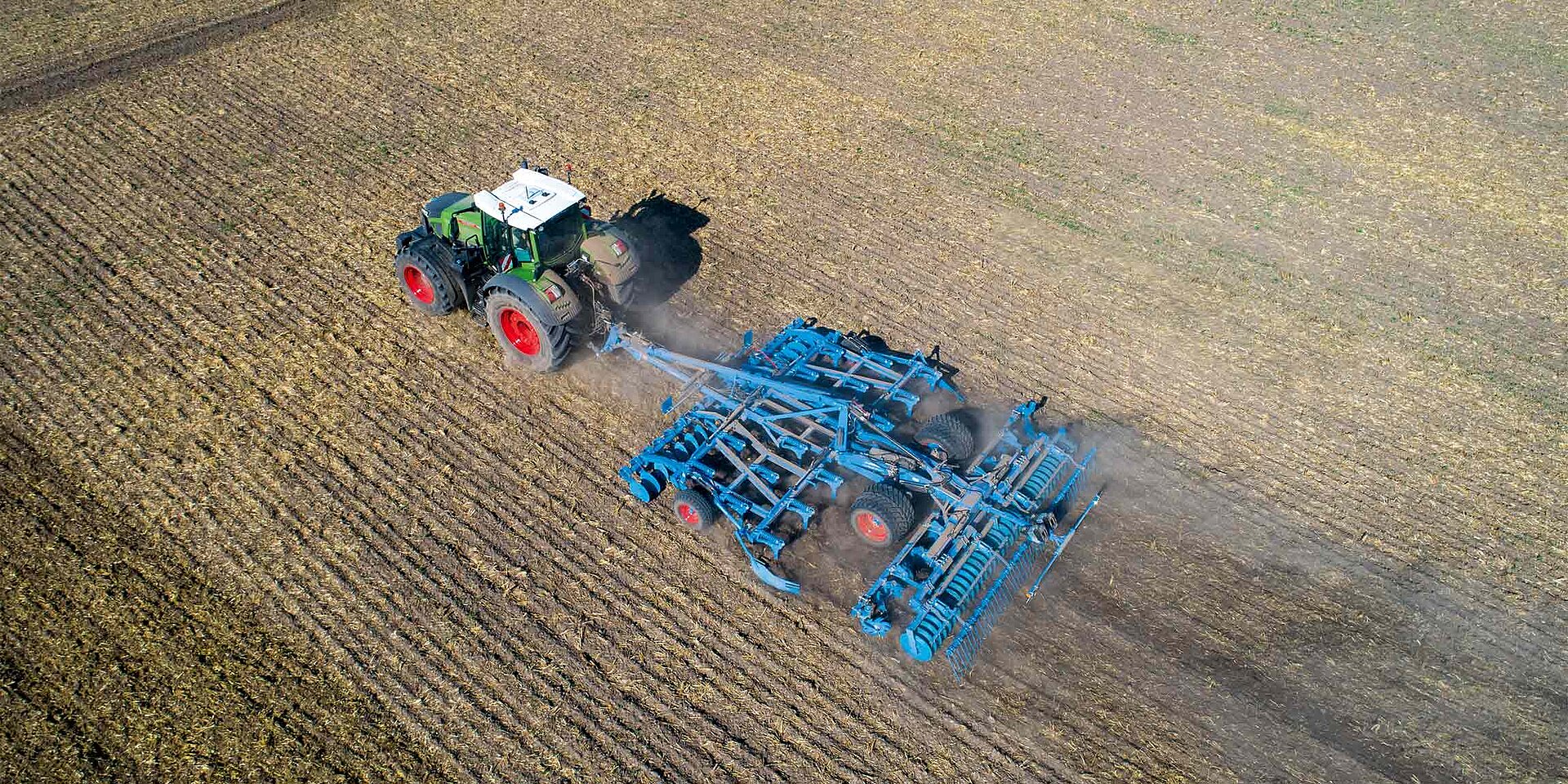 Comprehensive range of accessories for semi-mounted versions
Find the perfect combination for your needs. Our experts will be happy to advise you!
Deichseltypen in verschiedenen Längen und mit unterschiedlichen Koppelpunkten ermöglichen den Einsatz an allen Traktoren, auch mit maximaler Reifenbreite.
Drawbars available in a range of types and lengths and with different coupling points allow the machine to be used with all tractors, even with maximum tyre width.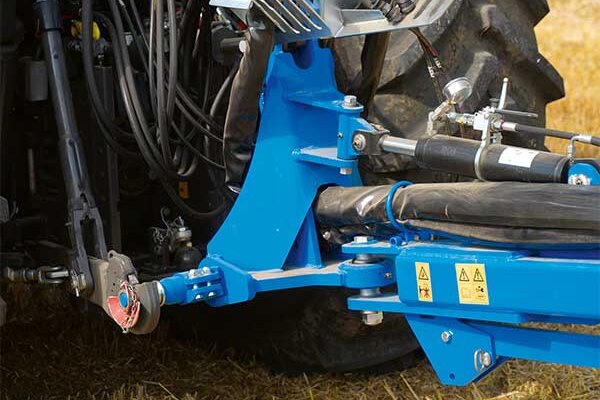 For optimal traction transmission, the Karat 10 K(U)A can also be equipped with a hydraulic traction booster. This "smart ballasting" system reduces slip and therefore saves fuel.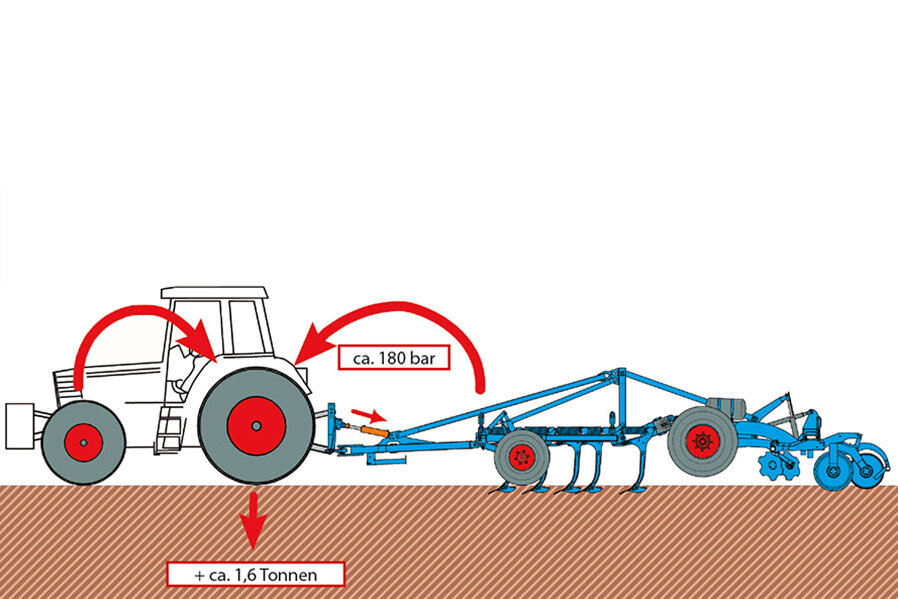 For working at a constant working depth in hilly terrain, the equipment option with ContourTrack is recommended.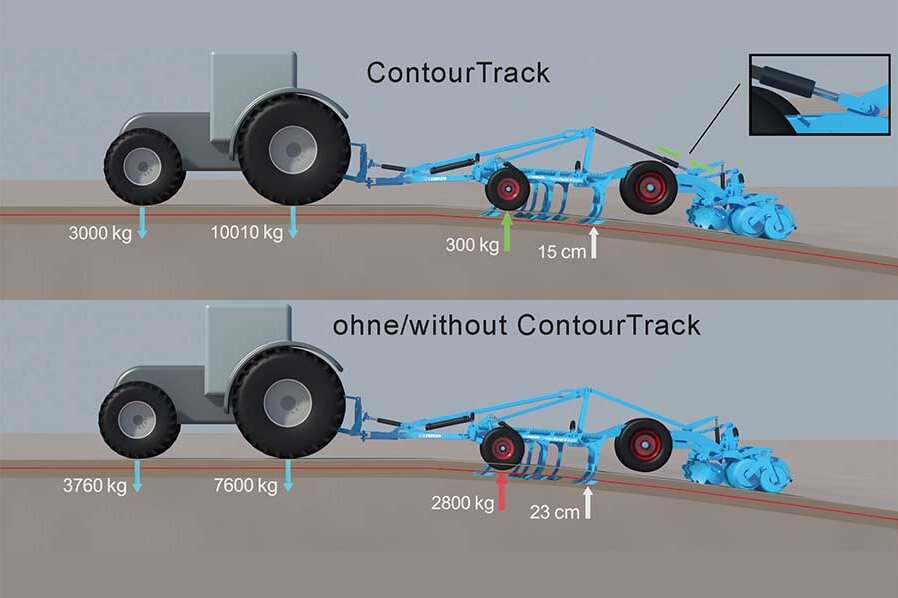 With this system, a pivot point in the frame behind the working section plus another hydraulic cylinder prevent the machine from working too shallow in depressions and too deep on hills.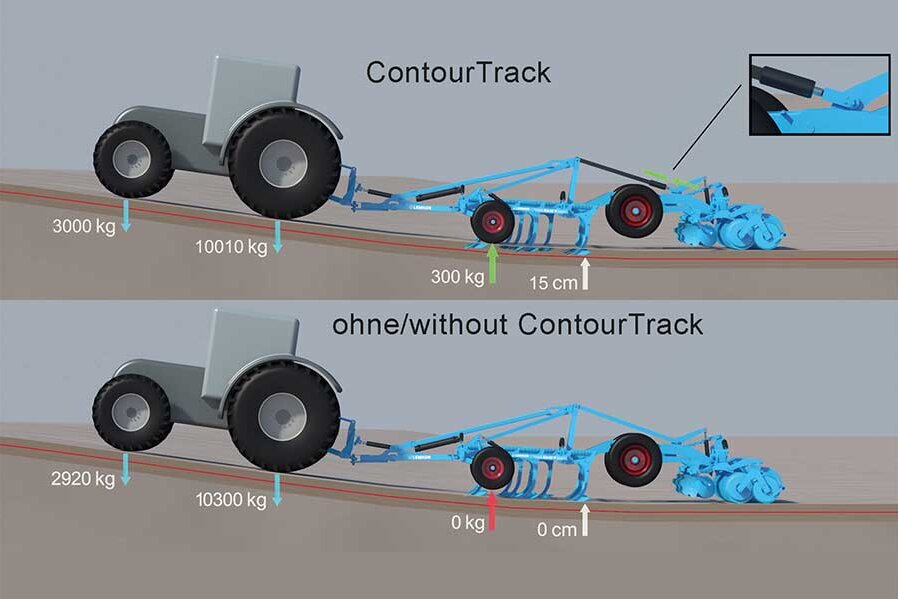 Select a model
K = Foldable
KA = Foldable, semi-mounted
U = Non-Stop overload safety device
Technical data
| | Karat 10/300 | Karat 10/350 | Karat 10/400 | Karat 10/300 U | Karat 10/350 U | Karat 10/400 U |
| --- | --- | --- | --- | --- | --- | --- |
| Working width (cm) | 299 | 344 | 398 | 299 | 344 | 398 |
| Power requirements (hp) from - to | 105 - 180 | 125 - 210 | 140 - 240 | 105 - 180 | 125 - 210 | 140 - 240 |
| Power requirements (kW) from - to | 75 - 135 | 90 - 155 | 105 - 175 | 75 - 135 | 90 - 155 | 105 - 175 |
| Weight (kg) | 970 | 1.035 | 1.180 | 1.275 | 1.370 | 1.570 |
| Article number | 722 1404 | 722 1405 | 722 1406 | 722 1414 | 722 1415 | 722 1416 |
| Number of tines | 10 | 11 | 13 | 10 | 11 | 13 |
Basic equipment
Lower link attachment Cat. 3N=L2 Z3 (or Cat. 3)
Quick-change tines with shearbolt device, as U-version additionally with automatic overload safety device
Hard-faced points K 12 P (120 mm wide) with guideboard KL 10 (100 mm wide)
Underframe clearance 80 cm
Outer guideboards
Levelling tines with shearbolt device, mechanically adjustable
Without roller
The availability and basic equipment of the machine may vary depending on the country. Please contact your dealer.