Successful tillage for your fields
The extensive range of pneumatic seed drills under the Solitair brand creates a wide variety of conditions for efficient implement use during sowing. In addition to mounted, semi-mounted and trailed machines, the range also includes combinations of front hopper and seed bar. They perform excellently in mulch sowing and conventional tillage.
Advantages of the pneumatic seed drills of the Solitair range
Also possible in large working widths
Seed flow is supported by air flow
Can be used on slopes without any problems
Small technical remaining quantities due to funnel-shaped central seed hopper
Large hopper volumes
Solitair 8+
Easy on the wallet
The cost-effective pneumatic top-mounted seed drill with mechanical metering system.
Solitair 8+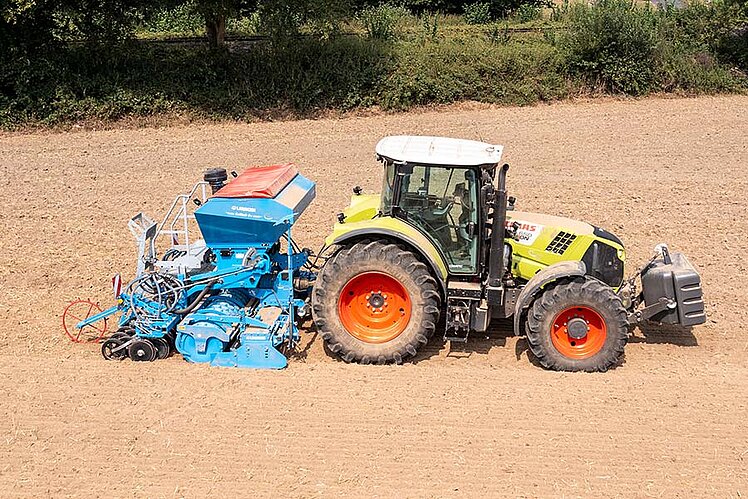 Solitair 9
The tried and tested classic
The hydraulically folding pneumatic seed drills with a working width of 4 - 6 metres.
Solitair 9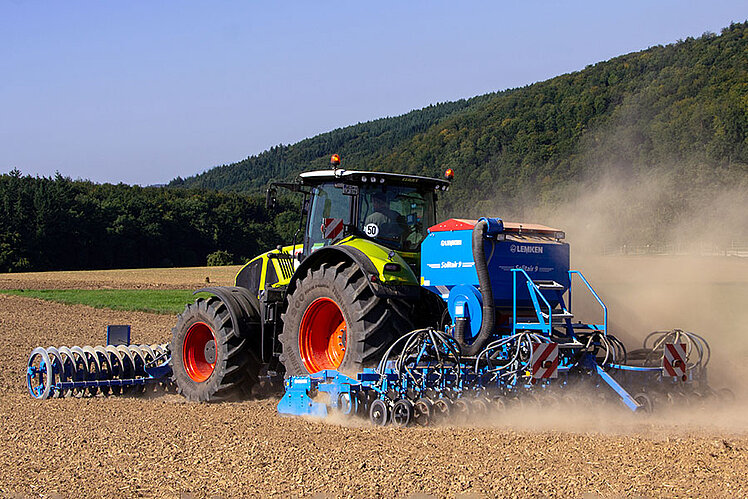 Solitair 9+
Intelligent & quiet
The top-mounted seed drill facilitates sowing with a particularly quiet hydraulically driven fan and a convenient calibration test.
Solitair 9+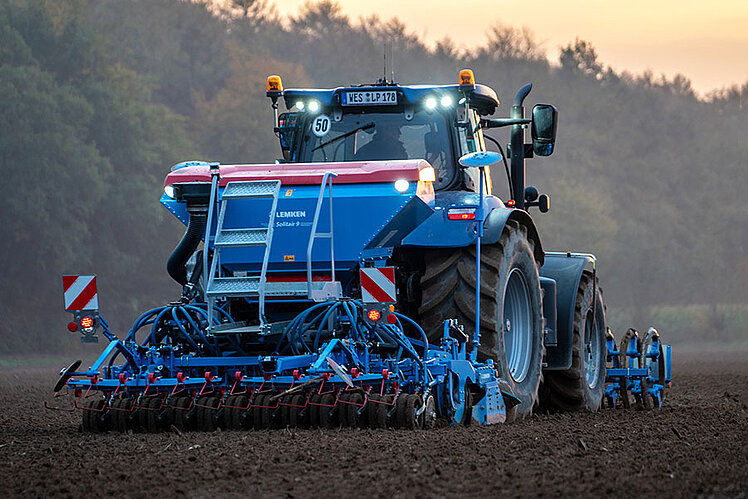 Solitair 9+ Duo
Save time!
The mounted Solitair 9+ Duo is equipped with a split seed hopper and thus offers a wide range of possibilities for simultaneous application of seed, fertiliser or even intermediate seeds.
Solitair 9+ Duo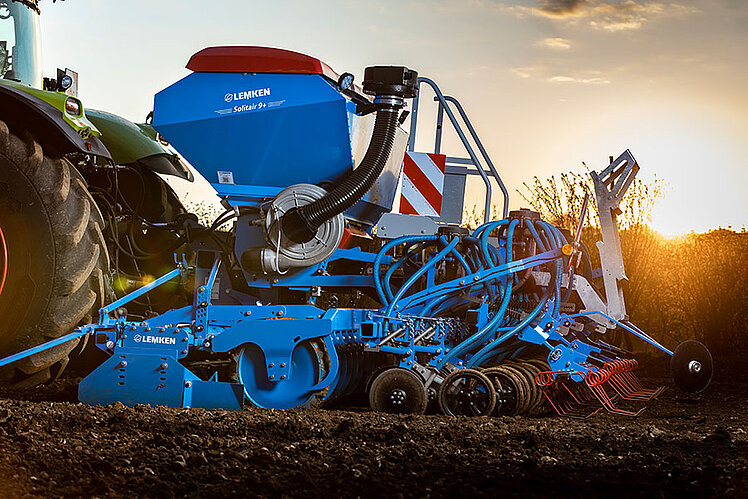 Solitair 12
The large area seed drill
The trailed Solitair 12 pneumatic seed drill in working widths of 8 to 12 metres stands for maximum area output and economic efficiency.
Solitair 12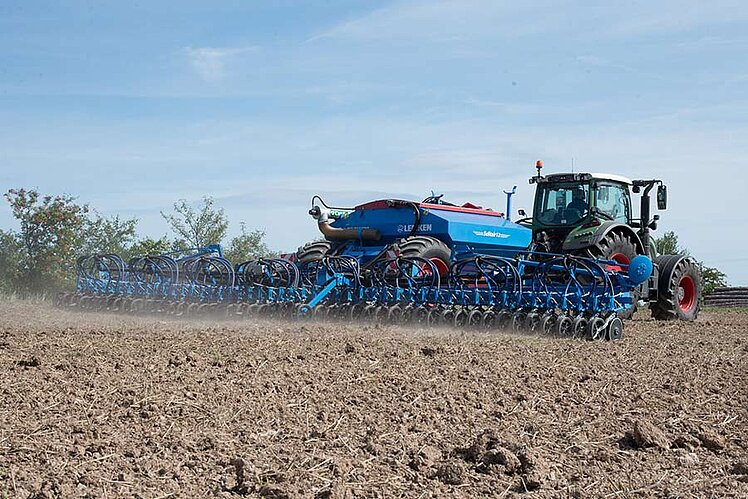 Solitair 23+
It's the combination that counts
The Solitair 23+ front hopper can be used as a fertiliser hopper with the Azurit precision air seeder. Combined with the Optidisc 25 coulter bar, it forms a powerful drill combination.
Solitair 23+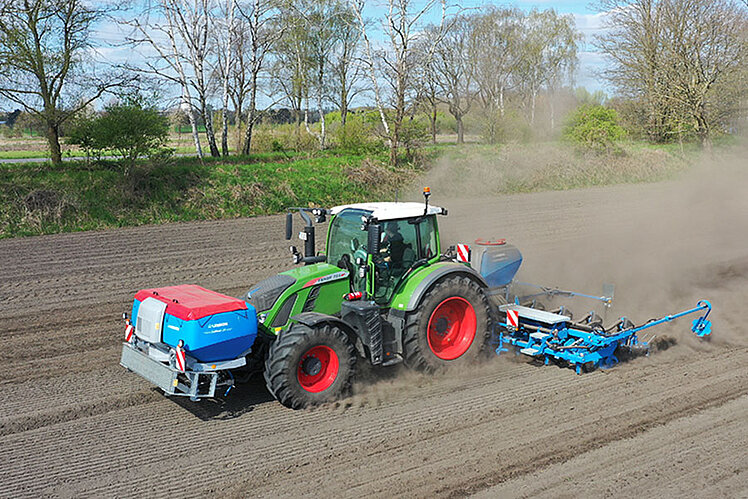 Coulter bar Optidisc 25
The flexible system for sowing
The OptiDisc 25 solo seed bar with OptiDisc double disc coulters, together with the Solitair 23+ front hopper and a power harrow, forms a manoeuvrable and compact drill combination with optimum weight distribution.
Coulter bar Optidisc 25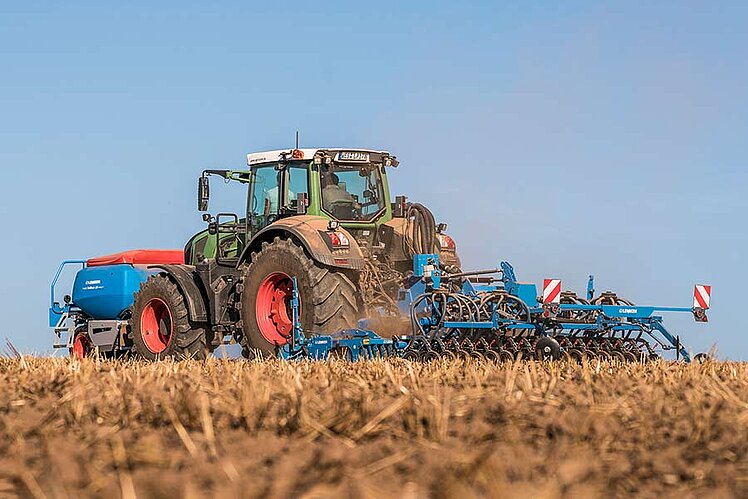 Solitair 25 KA
When the site often changes
The foldable semi-mounted seed drill with innovative metering and distribution concept can be combined with many soil tillage implements. In addition, it can be used as a fertiliser hopper with the Azurit precision drill.
Solitair 25 KA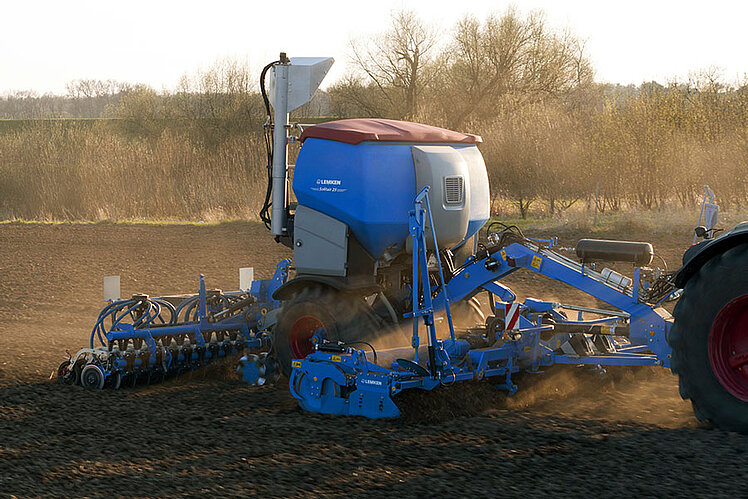 LEMKEN pneumatic seed drills
The double disc coulters, which operate without clogging, ensure optimum seed placement at a constant depth and uniform seed coverage in both wet and dry soil conditions.
The seed distributors are located outside the seed hopper directly above the coulter bar. For precise distribution, the seed hoses are the same length from the distributor to the coulter. Continuous slope of the seed hoses prevents blockages.