Solitair 23+
Nominal hopper volume from: 1 900 L
Seeding or fertilising
ISOBUS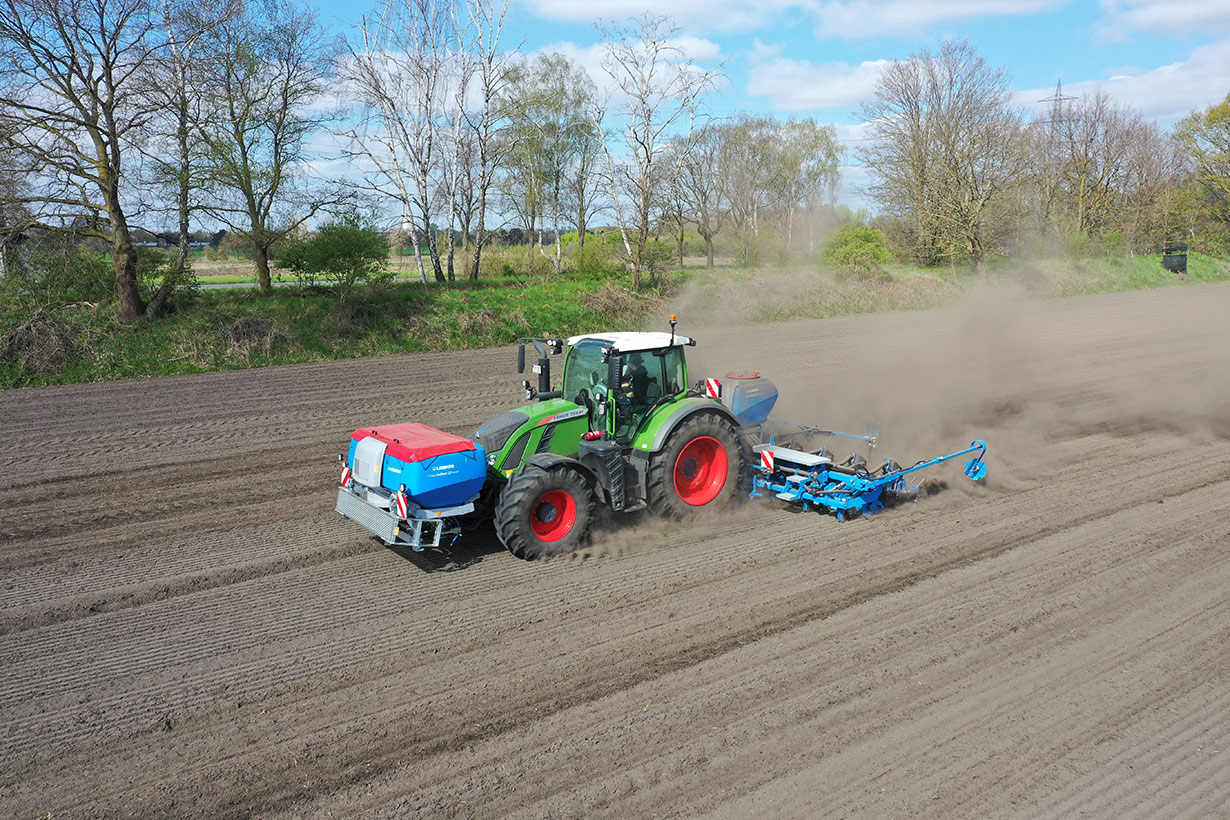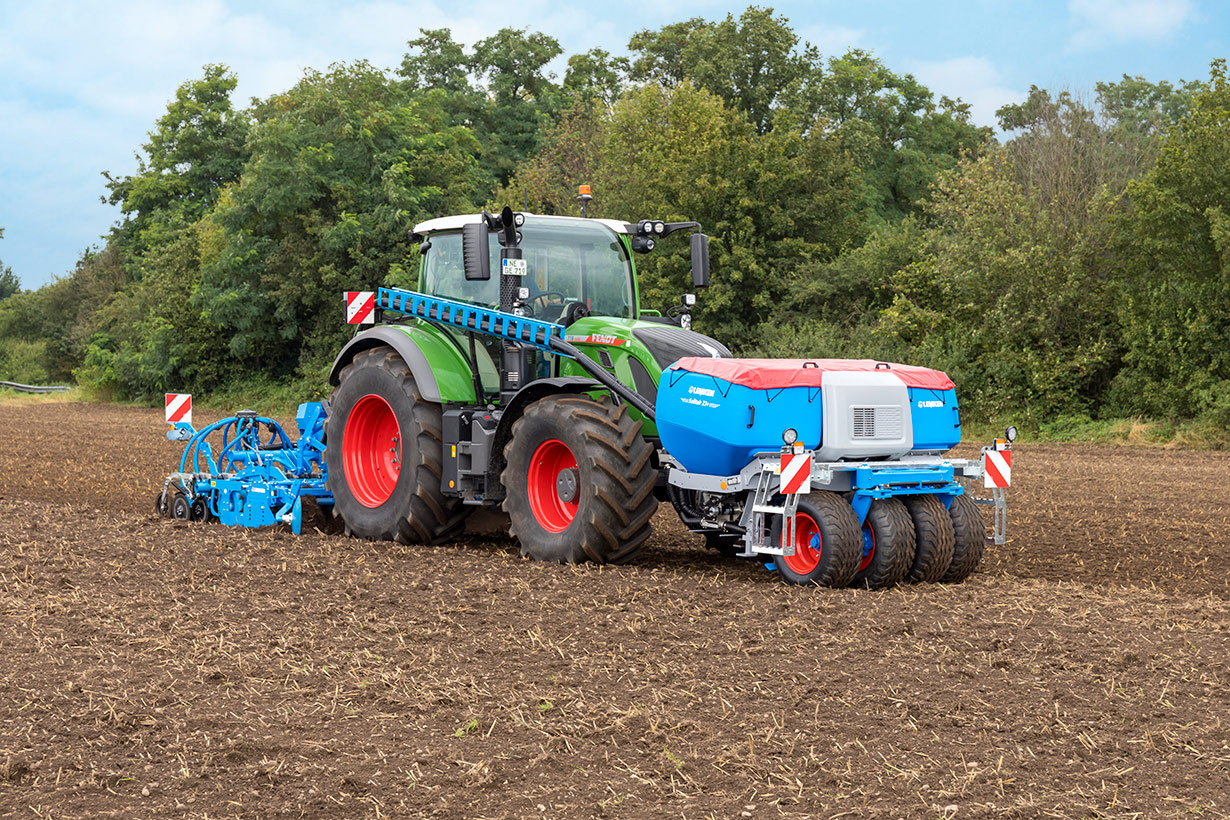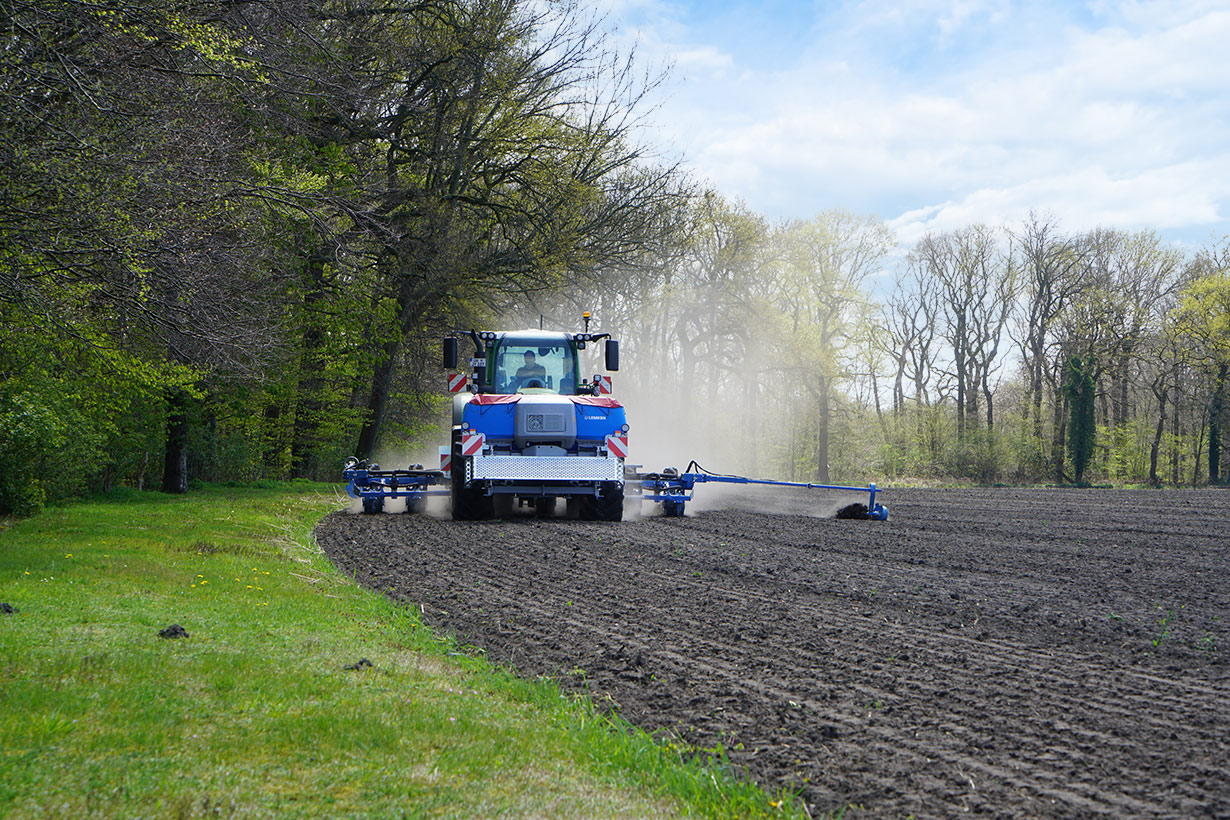 More versatility in sowing and fertilising
The Solitair 23+ front tank can be used for sowing or fertilising and can be combined with various LEMKEN seed drills such as the Azurit precision planter for fertilising or the Optidisc 25 coulter bar for sowing.
Contact your distribution partner!
Advantages of Solitair 23+
It can be used for under-root fertilisation with the Azurit precision seed drill or combined with the OptiDisc 25 coulter bar as a seed hopper.
The Solitair 23+ is designed as an injector tank. It can optionally be fitted with a pressure system to ensure that seeds or fertiliser are dosed reliably at rates of up to 500 kg per hectare even across long conveyor distances and at high forward speeds.
Its management is based on the LEMKEN MegaDrill operating system. This can be configured from an ISOBUS terminal to manage seeding and fertilisation in the most efficient way possible to help you reduce costs and maximise profitability.
Electrical width section control avoids overlap and thus saves costs for fertiliser and seeds.
In keeping with the design of the entire product family, the plastic Solitair 23+ tank has a low profile, despite its large capacity of 1 900 litres, to ensure good visibility.
The Solitair 23+ can optionally be equipped with a front tyre packer or modular case weights.
Technical data
| | Solitair 23/1900 |
| --- | --- |
| Weight (kg) | 740 |
| Article number | 750 5403 |
| Tank capacity (litres) | 1 900 |
Basic equipment
Electronic front tank control MegaDrill with preparation for operation with any ISOBUS terminal
Hydraulically driven fan
Mounting to front hydraulics, lower link attachment Cat. 3N=L2 Z3 (or Cat. 2)
Roll tarp cover
Underrun protection
4 precision meters, 2 width sections
Delivery rate (fertilizer): max. 130 kg/ha at 15 km/h; max. 250 kg/ha at 8 km/h
Electronic hopper level indicator
Seeds metering wheel set
Hose to the combination implement routed underneath the tractor
Width sections electrically remote-controlled
Calibration tank
Lifting signal mechanical
Stands
Without lighting equipment
The availability and basic equipment of the machine may vary depending on the country. Please contact your dealer.