Protecting the soil - onland ploughing

Tractors with wider tyres (710mm, 800mm or wider) don't have enough space in the furrows, resulting in harmful soil compaction when driving across loosened soils and along furrow edges. Tractors with crawler tracks that are driven outside the furrow for systemic reasons. Onland ploughing provides a soil-conserving solution here.
Reduce soil compation
Onland ploughing is particularly soil-friendly, as no tractor wheel runs in the furrow. The lower soil compaction has a beneficial effect on the soil structure.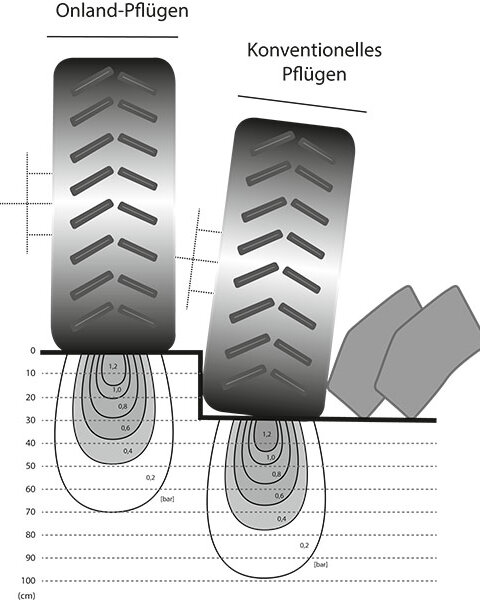 Ploughing with GPS
GPS steering systems make on-land ploughing more practicable for tractor operators and allow comfortable ploughing with precise furrow alignment even from standard tractors.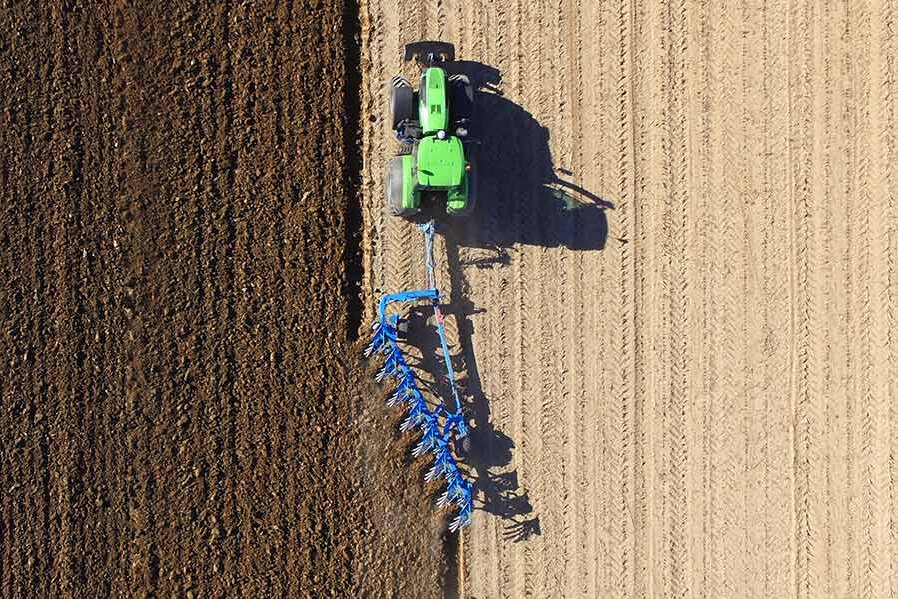 Onland and in the furrow
The mounted ploughs Juwel 8 and Juwel 10 as well as the semi-mounted ploughs Diamant 16 offer in the OF version the possibility to quickly and easily switch from soil-conserving on-land operation to ploughing "in the furrow" when conditions require it.
The OF versions of Juwel 8 and Juwel 10 allow tractors to be driven both in-furrow and on-land.
The ploughs OF system is adjusted via an inner hydraulic cylinder, which also serves to set the distance to the furrow edge and thus the front furrow width.
The outer ram is used to set the tractor/plough traction line either mechanically via an adjustment sleeve or hydraulically via a memory ram.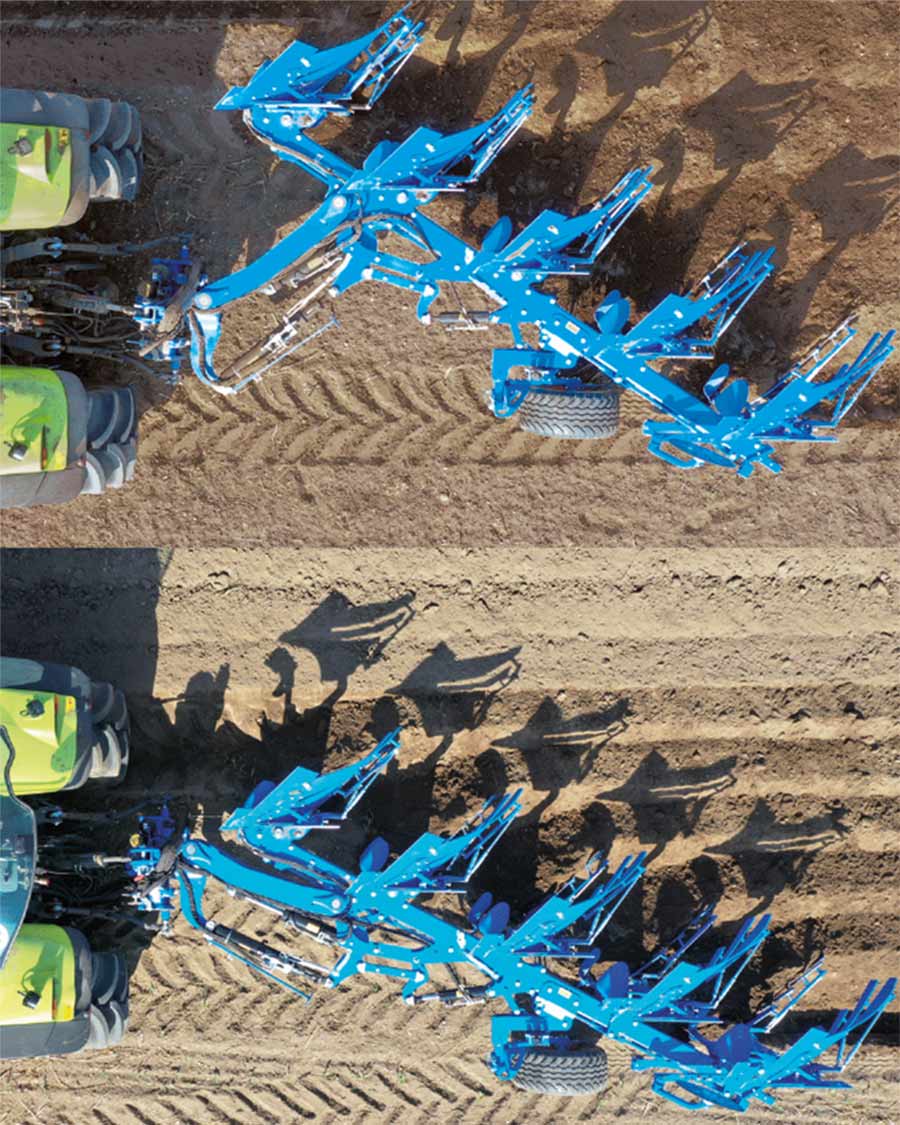 The Diamant 16 can be used onland with tractors with up to 4 metres external width.
On slopes, operators can even plough downhill, and ploughing close to field edges is possible both on-land and in the furrow.
During on-land operation, the frame can be swivelled into two positions. When working with smaller tractors and, for example, a 5-furrow Diamant 16, the swivel cylinder is extended half way. When working with ploughs with 7 or more furrows, the cylinder is extended fully to maintain an optimal distance to the furrow edge at all times and to plough without side pull.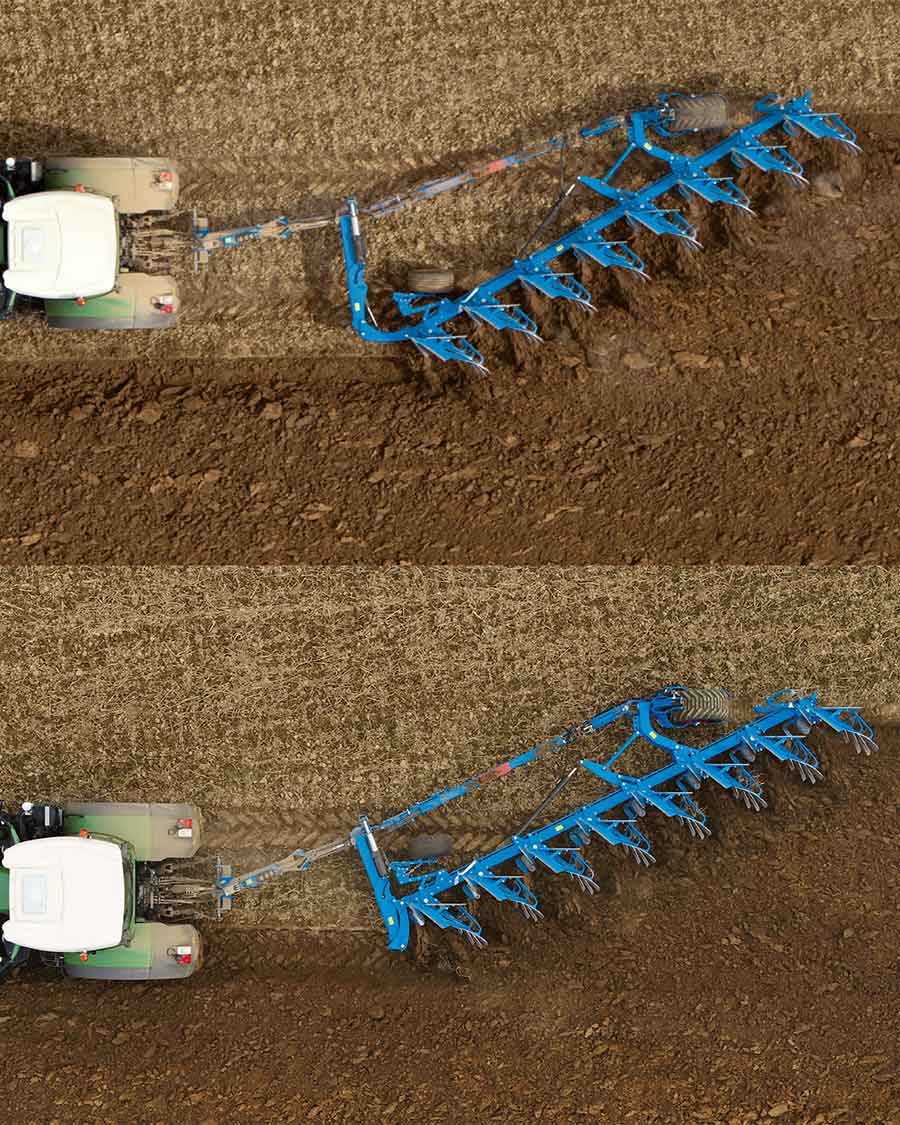 Always travelling onland: Titan 18
With up to 13 furrows the Titan is specially designed for onland use and guarantees high area outputs with working widths of up to 7.15 m. The onland turnover device ensures precise, safe plough rotation and protects both the tractor and the plough. This optionally allows the implement to be swung in before rotation and supports outside tractor widths of up to 4.60 m.