ContourTrack

Stubble cultivation at constant depth
Semi-mounted cultivators, which are often relatively long, find difficulties in maintaining a constant working depth as the terrain rises.
LEMKEN ContourTrack technology automatically adjusts the depth settings to maintain a constant working depth. The principle is simple: sensors on the gauge wheels record the pressure applied to ensure that the operator's desired pressure is maintained over a bump as well as in a dip. The pressure is adjusted automatically using load sensing technology. An additional cylinder at the rear also automatically adjusts the height of the levelling discs and the position of the rear roller.
Even working depth in uneven ground conditions
This is the frame of the cultivator that adapts to the terrain via a hydraulic cylinder at the rear and pressure sensors at the front on the gauge wheels to ensure that the pressure does not change.
This ensures that the working depth remains constant - whether it's a bump or a dip. On the tractor side, the need for traction is considerably reduced! No adjustment is required, the load-sensing technology adjusts everything and ensures uniform stubble cultivation!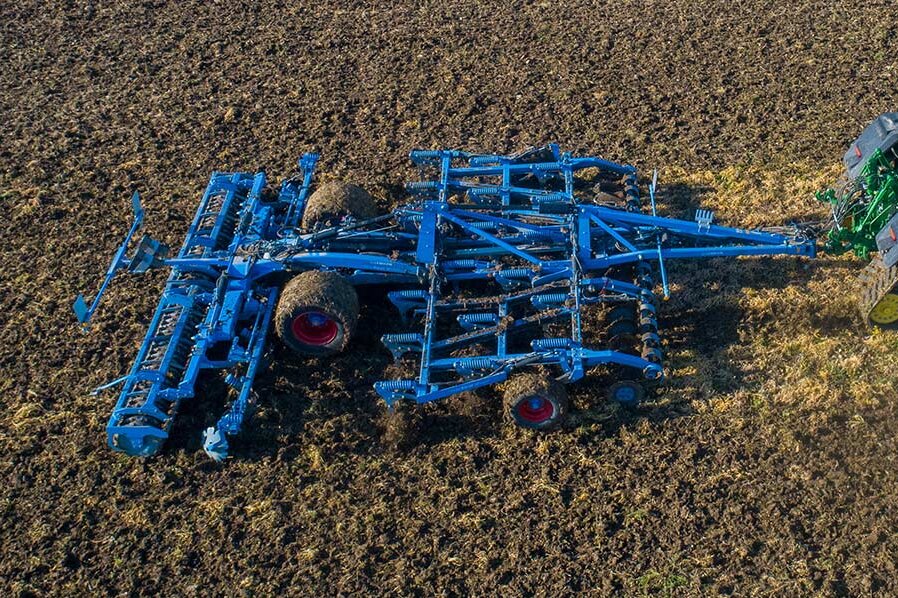 What happens in hilly conditions?
Assuming that a certain pressure on the gauge wheels corresponds to the desired working depth on flat ground, the same pressure must be maintained on hilly terrain. Due to the length of a semi-mounted Karat (approx. eight metres), this pressure could not be maintained automatically when driving over a dip or a bump.
Without adjusting this pressure, the cultivator works too shallowly in a dip and too deeply over a bump. This leads to overloads that increase the traction requirement abnormally.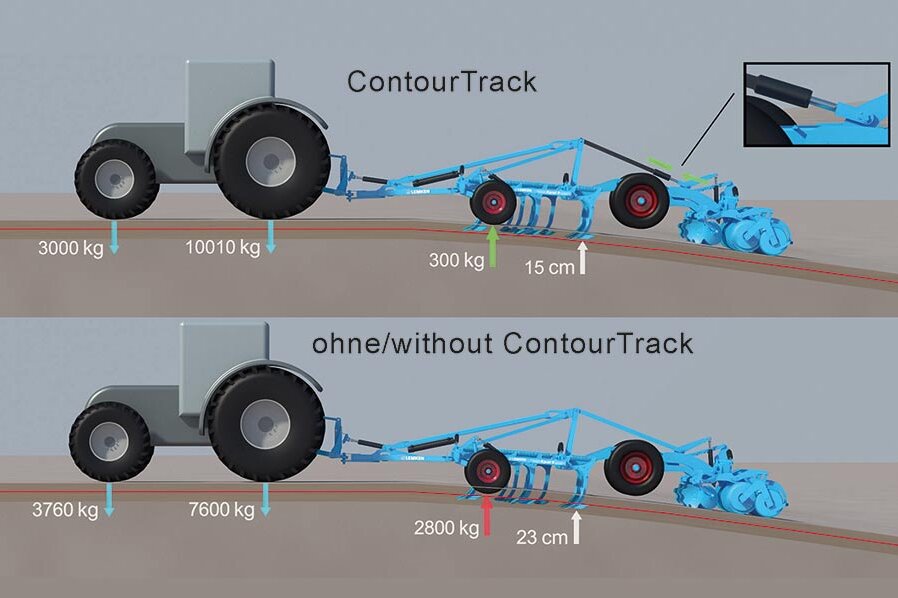 Continuous ground tracking with ContourTrack
An additional hydraulic cylinder at the rear of the semi-mounted frame changes the position of the levelling discs and roller so that they always follow the ground. The pressure on the gauge wheels is also kept constant to maintain a constant working depth.
Load sensing technology
The hydraulic cylinder is controlled by an electronic controller that continuously receives signals from sensors at the gauge wheels to automatically adjust cylinder length and pressure. Initially, the operator sets the desired working depth once to calibrate the system, after which he can rely on the load sensing system to ensure consistent work quality.
Contourtrack technology is available as an option for the Karat and Kristall semi-mounted cultivators. The benefit to the operator is twofold: it saves fuel and gains comfort by automating adjustments to achieve a uniform stubble pattern in hilly terrain.