More functions for front tanks
The SprayHub front tank can now be used with the SprayKit application unit and a rear-mounted hoeing machine for band spraying during hoeing. The combination of both implements can help to reduce farmers' workloads by up to 60 %. For the upcoming season, the SprayHub and SprayKit have been equipped with new functions like an electrical single-row deactivation via ISOBUS which enables row-by-row automatic section control by means of GPS. In addition, there is also a version of the SprayKit for under-root fertilisation with the Azurit precision seed drill.
Extensive equipment
The SprayHub front tank is equipped with its own controls, agitator and cleaning system. It is ISOBUS-controlled and can be operated via the "iQblue spray" software. The SprayHub has a 1,100 or 1,500 litre tank volume and is fitted with a clean water tank, a hand wash tank and a filling filter. There is an additional induction nozzle to help break up solid materials. A CTS connection for contactless induction is also available.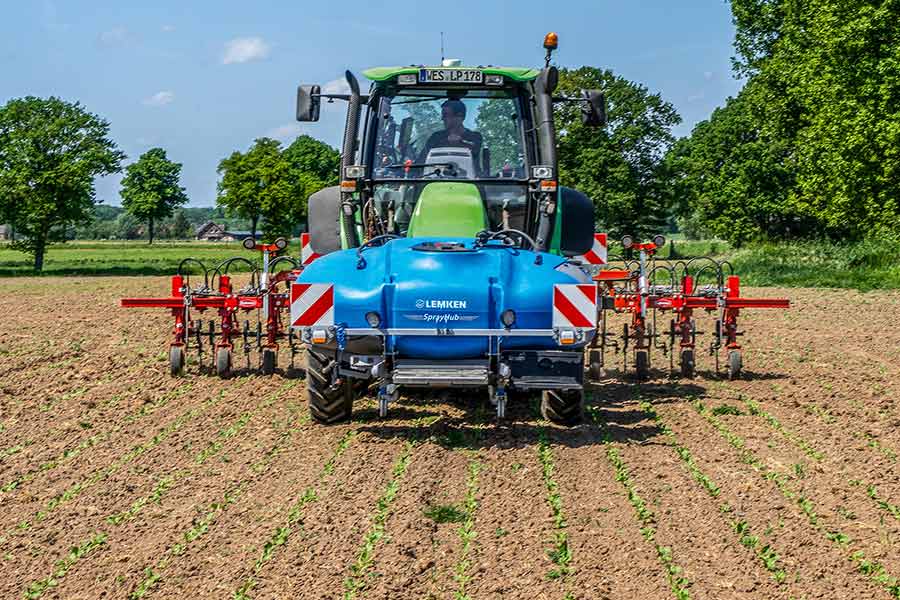 Multiple applications
Depending on the configuration, the SprayHub with SprayKit can be used variably:
For band spraying on up to 28 rows with EC-Weeder hoeing machines. It is possible to have 2 nozzles per row here so that the herbicide can be sprayed from the side and under the leaves of the crops.
For liquid fertilisation with a duck-foot share done in the immediate vicinity of the crops.
For under-root fertilisation with a double disc coulter at Azurit precision seed drills with up to 8 rows.
The SprayHub front tank can be flexibly combined with a wide range of different machines. The SprayKit can be adjusted to any specific application.